Industrial Visits in the AY 2021-22
MSEDCL switching station, Shirgaon, Virar East
On 13th April 2022, T.E Students had an industrial visit to the Shirgaon substation to give practical clarification of the substation. Department of Electrical Engineering of VIVA Institute of Technology organized industrial Visit for third year students at MAHATRANSCO, 220/22KV EHV-Substation, Shirgaon, Virar. On introductory knowledge of components details, Lightning arrestor, CVT, Instrument transformer, circuit breaker, Power transformer, Isolators, Relays, each device in process of transmission and distribution of Electricity.
The event is guided by Mr. Parag Vilas Bise , Add. Exec. Engineer, MAHATRANSCO was very helpful according theoretical and practical point of view and same is highly appreciated not only by the students but also by the teachers who attended.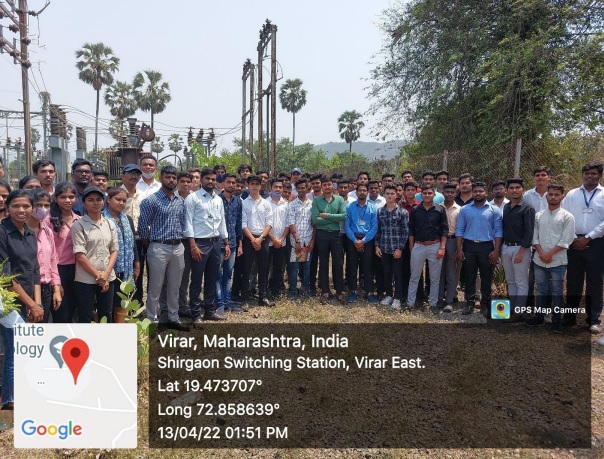 Industrial Visits in the AY 2019-20
EMU Car shed, Electrical Training Centre, Western Railway, Virar on 7th Oct 2019 for B.E Electrical Students
Technofour Pvt ltd, Kasurdi, Pune, Maharashtra on 8th Aug 2019 for B.E Electrical Students
Gas Turbine Power Station, Uran, Navi Mumbai, Maharashtra on 20th Sept 2019 for T.E. & B.E Electrical Students
Western Region Load Dispatch Centre (WRLC), POSOCO, Andheri-East, Mumbai on 12th Sept 2019 for T.E. Electrical Students
Industrial Visits in the AY 2018-19
Western Region Load Dispatch Centre (WRLC), POSOCO, Andheri-East, Mumbai on 9th Oct 2018 for B.E Electrical Students
Power System Operation Corporation Limited (POSOCO) POSOCO is a fully government Company. It was separated from power grid on 3 January 2017. It was a wholly owned subsidiary of Power Grid Corporation of India Limited (PGCIL) till 2 January 2017. It was formed in March 2010 to handle the power management functions of PGCIL. It is responsible to ensure the integrated operation of the Grid in a reliable, efficient and secure manner. It consists of 5 Regional Load Dispatch Centers and a National Load Dispatch Centre (NLDC). The subsidiary was eventually made a separate company, leaving the parent firm with only the task of setting up transmission links. The load dispatch functions, earlier handled by PGCIL, has now come up to POSOCO.
The educational visit was organized to raise awareness on  different type of load consumption by us and what are the effect of load on the power system.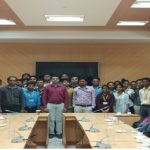 EMU Car shed, Electrical Training Centre, Western Railway, Virar on 11th Sep 2018 for T.E Electrical Students
Institute of Technology, had organized Industrial visit on 11th Sep 2018 to Western Railways, Virar Car shed. It was conducted for one day visit. Under the guidance of our Professors Mrs. Piyali Mondal & Mr. Rahul Abhyankar, Electrical Engineering Department
Many Traction systems have been developed over the period depending on dominant technologies at that time and traffic demand. Traction system for urban, Sub-urban and main line transport developed over the period are at 750V DC, 1500V DC, 25kV AC, 2x25kV and 50kV AC. 750 and 1500 V DC are mainly for urban transport whereas 25kV and 2x25kV for all types of transport. 50kV is exclusively for stand-alone dedicated heavy haul long distance transport.
The aim of this educational visit was to provide detail knowledge related to Traction system of Western Railways. The students had a brief review of Control Unit, Different electrical Systems used in trains (EMU).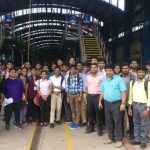 NPCIL, Tarapur Atomic Power Station, Boisar, Maharashtra on 28th Aug 2018 for S.E Electrical Students
NPCIL is responsible for design, construction, commissioning and operation of nuclear power reactors. NPCIL is presently operating 22 commercial nuclear power reactors with an installed capacity of 6780 MW. Nuclear Power Corporation of India Limited (NPCIL) is a Public Sector Enterprise under the administrative control of the Department of Atomic Energy (DAE), Government of India. The Company was registered as a Public Limited Company under the Companies Act, 1956 in September 1987 with the objectives of operating atomic power plants and implementing atomic power projects for generation of electricity in pursuance of the schemes and programs of the Government of India under the Atomic Energy Act, 1962.The Mission of the Company is 'To develop nuclear power technology and to produce nuclear power as a safe, environmentally benign and economically viable source of electrical energy to meet the increasing electricity needs of the country.
One of the aims of the educational excursion was to educate students for the crucial aspects related to power plant. The students were exposed to practical things like Boiler, Control Unit, Generation and Transmission System. The plant is regulated by NPCIL.
Industrial Visits in the AY 2017-18
Western Railway EMU Car shed Virar
Hindustan Coca-Cola Beverages Pvt. Ltd
Indian Space Research Organization (ISRO), Ahmedabad
Padgha HVDCT Substation
MAHATRANSCO, 220/22KV EHV-Substation, Nallasopara
Amul Dairy
Industrial Visits in the AY 2016-17
Suzlon Energy Lmt
Westran Railway Virar Carshed
Gas and Thermal Power Plant, Mahagenco, Uran
Deltron Electrical